Entry #1
ZillaFreak - Yamaha Banshee
Engine
stock CC motor
370 trail port
kennedy cut and milled stock head
V-Force 2 reeds
Shearer 2-1 Pipe
Custom 2-1 intake manifold
38mm PWK A/S carb with pod filter
3pc brushed aluminum stator cover
Chassis
stock frame
+2+1 lonestar a-arms
works shocks
blingstar front bumper
voltric plastic
custom seat and cover
YFZ front brakes
SS lines all around
AC Nerf Bar
Entry #2
Ride.Race.Live - Yamaha Banshee
Engine
stock CC motor
HJR TT porting
Cool head
Chariot reeds / cages
Rocket 2 pipes
Boss billet intake
35 PWK's
PD intake
DD lock up clutch
Straight cut gears
Chassis
Stock frame
+3 Janssen Long travel Aarms
Long travel elka shocks
LSR +2 +4 axel
Roundhouse swinger
DG front bumper
AC pro peg nerf bars
YFZ front brakes
SS lines all around
Entry #3
Antec1200X - Yamaha Banshee
AC Racing front bumper, rear grab bar and Pro-peg nerfs w/heel plates. White Bros boost bottle. K&N filter with pre-charger. Shock covers. ITP front baja and rear beadlock wheels. Maxxis Razr rear tires and X-Driv fronts. FMF Gnarly pipes and Powercore 2 silencers. Stock seat shaved 1". Frame painted black. Renthal Fat Bars w/20mm riser clamp kit. Emergency brake block off plate. Case Saver Boysen Rad Valves
Entry #4
dakotademon7 - Yamaha Blaster
Engine modifications
HJR MX aggressive porting,KOR redesigned head,VF3 reed cage, Billet reed spacer,OKO 30mm flat slide carb,CFM air box,Factory 7 pipe,Toomey silencer ,Wiseco piston.
Suspension modifacations
+ 3 swing arm,TRX 450R rear shock,Works tripple rate with res.
Brake modifications
Awk08 GSXR 1000 rear brake system ,Norman420 custom conversion front spindles, complete Banshee front brake system including hubs.
Other modifications
Banshee rear axle,Billet axle lock nut,Billet tail light cover, Billet exhaust coupler,Billet bar clamp, Billet thumb throttle cover,Billet gas cap, Polished front brake res cover,tether kill switch,Fat bar nerfs with nets,450R heal guards,RPM rear skid plate,LED headlights, custom seat with matching graphics,DG front bumper Duro 18" flat track rear tires.
Entry #5
williamduncan - Yamaha Banshee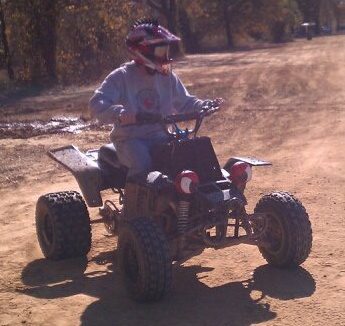 VF2 Reeds
stock carbs
k&n pods
hd clutch springs 3/3 with F.A.S.T. clutch plates
Pancake bearing (chariot)
Billet impeller (chariot)
+4 timing (chariot plate)
Lightened flywheel (local machine shop)
Bored .03 over with HJR hardcore port job
VITO'S single piece coolhead with 21 CC domes
MotorCityATV's oversized polished aluminum radiator
Chainbreak guard
East coast ATV tether kill switch
Entry #6
volfan537240 - Yamaha Banshee
421 cheetah cub
35 pwk's
vforce 2 reeds
pro design coolhead
shearer inframes
direct drive lockup and cover
+6 extended swinger
yfz450 front suspension
see the link for more detailed info about each entry
http://www.dirtparadise.com/t628-february-s-otm-contest#7661